Doing Well by Doing Dastardly
OK, Big Tobacco purveys a lot of disease, death and corruption,
but look at how much goddamn money you can make!


Friday, May 11th 2012
Published by: StreetAuthority (Austin, Texas)
The Most Hated Company on Earth Is Making Investors Rich
I can't think of a stock that's more hated.
I've written about this company several times before. And I've personally owned it for years. But every time I mention it, I get nasty emails criticizing me for even covering this stock... let alone recommending it.
In fact, it happens so often that I instruct our staff to mention that this investment isn't for everyone whenever they cover it. If you don't want to invest in this stock, I can certainly understand. But if you have an open mind toward this black sheep, then you're likely to appreciate what it can do for you.
Simply take a look at its performance in the last 12 months...
Last year, a year marked by credit downgrades, the European debt crisis and stagnating growth, the most hated company on the planet still made investors rich. And in the first few months of 2012, the stock has continued its stellar performance.
In fact, this company touched a new 52-week high on Tuesday, Feb. 22.
Unfortunately, I've noticed that far too many investors think investing has to be complicated. But stocks like this one prove that making money doesn't have to be hard.
This company doesn't have a complicated business model. It is simply one of the most dominant and shareholder-friendly companies on the planet. Its products cost pennies to make, they sell for dollars and there's fantastic brand loyalty. The company does business in 180 countries and owns seven of the top 15 brands in its business.
Most important it has made a mission of rewarding its shareholders. It has raised its dividend every year since the firm was founded. In the past three years alone, it has returned more than $12 billion in dividends while increasing the payments per share by 43%. Today, the shares yield close to 4%.
Then there are the buybacks. Since May 2008 the company has repurchased more than $20 billion in stock -- or nearly 20% of the outstanding shares.
All of these moves make the stock more valuable, even if earnings don't rise a cent. And as you can see, that's showing up in the share price.
I must admit, I'm a bit biased. I personally own this company -- Philip Morris International (NYSE: PM) -- and also selected it as one of my "10 Best Stocks to Hold Forever."
Nothing is 100% certain in investing.
But when you can find companies like Philip Morris that dominate their market and are returning billions to investors, you've got a stock that can plow ahead in nearly any market -- including this one.
-- Paul Tracy
P.S. -- You don't have to invest in tobacco to make "forever" profits. I've uncovered nine more investments that are strikingly similar to Philip Morris in my latest research: 10 Best Stocks to Hold Forever. They dominate their markets, pay increasing dividends and repurchase billions in stock. To learn more about these ideas, including several names and ticker symbols, I invite you to watch this video.

The 10 Best Stocks to Hold Forever

Warren Buffett, Goldman Sachs, John Kerry... maybe even YOUR own Congressman already own many of these stocks.

Now regular Americans like you and me can pull back the curtain and buy these "forever" ideas. My advice: Buy them, forget about them, and hold them forever. Watch below to get started right now...
---
spread

SAP MEMES TO FACEBOOK
NEMESIS: the Greek deity of indignation against, and retribution for, evil deeds and undeserved good fortune. She personifies resentment toward those who commit and profit from heinous crimes with apparent impunity. She is often depicted as a winged goddess holding a measuring scale, bridle, sword or scourge; and her name means 'dispenser of dues.'

"Nemesis is a kind of fatal divinity who restores proper proportion or equilibrium to the world wherever it has been disturbed. She humbles those enjoying excessive or unfairly acquired fortunes with punishing losses to revive their compassion and humanity." In sum, she's a real SAP heroine and fitting deity for our times...

Adapted from Theoi Greek Mythology.
Testosterone
- the molecule of male maturity


History in your Pants
Wlad's Kyoto Mayoral Report
Big T causes Aggression - Not!
New York Times Article
Testosterone
"This American Life" Episode
Testosterone
Wikipedic Take
Low T by the Numbers
Research-based Summary
Trouble with Testosterone
Sapolsky Essay
Behavioural Correlates
Research Overview
BIG BODY HEURISTICS
March 2000 Cyberconference

ARE CORPORATIONS
REALLY ALIVE?
(Are they now our dominant species?)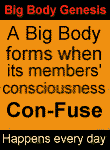 Living System Perspectives on Corporate Evolution, Anatomy and Eco-Social Pathologies
"A fascinating conceptual breakthrough."
- - David Korten
"An extraordinarily imaginative
and important idea."
- - Howard Zinn
Conference introduction notes here.