Anthroculture: Conditioning Us for Terminal Incorporation
Big corporate bodies don't just crave profits and resources. They need a constant supply of small subservient members pouring their life energy into them.
Hive insects neuter their workers and arrest their development with pheromones and hormones. Corporate society does it with cortisol and anti-androgens, i.e., stress, fat and/or fear. Industrial environmental hormones now also help suppress male maturation and in highly corporatized cultures like Japan where male interest in sex, sperm counts and birth rates are all plummeting, the emasculation/juvenalization trend is clear.
Recognizing and Resisting a Low T Corporate Culture
See also "Educating for Corporatism" and "Rationalizing Incorporation" below.
---
---
spread

SAP MEMES TO FACEBOOK
SAP Magic 10% Recruiting
DIP YOUR TOES IN SAP HERE


Click the pic, pass the quiz,
take the course, ace the test
(and leave some love)
You too can be certified dangerous!
Testosterone
- the molecule of male maturity


History in your Pants
Wlad's Kyoto Mayoral Report
Big T causes Aggression - Not!
New York Times Article
Testosterone
"This American Life" Episode
Testosterone
Wikipedic Take
Low T by the Numbers
Research-based Summary
Trouble with Testosterone
Sapolsky Essay
Behavioural Correlates
Research Overview
Provisional

Campaign Themes
We offer some early meditations here, a short bibliography here, and some seminal works below.
Imagine all the testosterone debilitating influences that Dr. Sexton describes as doubled or tripled in Japan, and you begin to understand their problem...
"Freedom can be frightening; Totalitarianism can be tempting--this classic book explains why." It also explains the core psychology of the conservative "base" in every culture, the enduring power of fear-based politics, and why Cheney, Rumsfeld and the neocons saw it was political suicide to ever admit a mistake.
Describes in great detail the impact of fear and stress on psychic development, libido and sexual competence. The news ain't happy...
Fascinating sections on obesity-related impotence, stress retardation of psychosomatic development, and "psychological castration" caused by low social status. How are things around your water cooler?
"A novel in the form of hearings before the Standing Committee on Education, Welfare & Public Morality of a certain State Senate, investigating the conspiracy of Mr. Wissey Jones, with others, to purchase a male child." New dimensions in corporate headhunting...
Full text online here.

BIG BODY HEURISTICS
March 2000 Cyberconference

ARE CORPORATIONS
REALLY ALIVE?
(Are they now our dominant species?)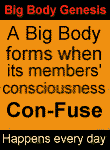 Living System Perspectives on Corporate Evolution, Anatomy and Eco-Social Pathologies
"A fascinating conceptual breakthrough."
- - David Korten
"An extraordinarily imaginative
and important idea."
- - Howard Zinn
Conference introduction notes here.